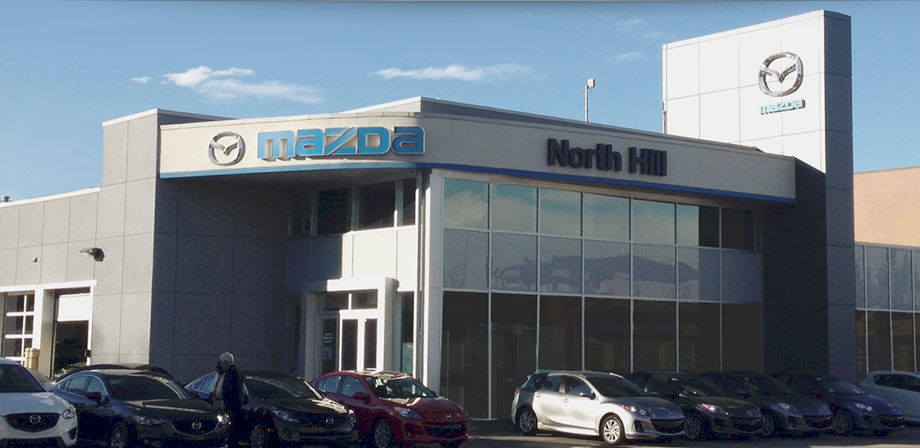 Hello and welcome to North Hill Mazda in Calgary. I would like to personally thank all of our past, present, and future customers. Coming from a background in Service, I know that in order to succeed, I will need to make sure that when you first come through our doors every one of your wants and your vehicle`s needs will be looked after. In taking over this store on January 1st, we committed to becoming the only stop you need for Mazda vehicles in Calgary and throughout Alberta for sales parts and/or service. I successfully worked my way through dealerships, starting out washing cars, and I eventually earned the Interprovincial Red Seal as a Technician, became Service Manager, and then General Manager. This lengthy experience has given me a unique approach to this business, and I would love the opportunity to prove to you the difference.
From our extensive Mazda parts inventory - our offsite storage lot that stores over 200 vehicles - to our service staff with an accumulation of over 130 years of experience, we have the know-how to make sure we look after you and your vehicle. Customers love that we pay attention to detail, which inevitably starts with our staff, who not only know everything they need to in order to service and care for your Mazda, but are also fully committed to providing you with the best customer service in the West. We have experienced technicians ready to service your vehicle. Also, if you are looking to customize the look and feel of your Mazda, you have come to the right spot. We carry genuine Mazda parts and accessories in order to personalize your ride with custom accessories and performance add-ons.
With the help of this website, we at North Hill Mazda offer you the chance to browse through the finest Mazda vehicles, including the familial 2017 Mazda5, the 2018 Mazda3, the 2017 Mazda6, and the 2018 Mazda CX-5. Only Mazda is able to provide the unique combination of fuel efficiency, high performance, excellent detailing, and high tech features. To help ensure that you can quickly and easily become the proud owner of a Mazda, we offer a variety of financing plans through Mazda Canada, or one of our Banking Partners.
North Hill Mazda is also home to high quality pre-owned cars. Our pre-owned vehicles are fully reconditioned. Each car comes with a CarProof report detailing the car's history to protect your investment and give you the information you need to make a sound purchase. Most of our Pre-Owned vehicles come from our loyal customers, and we have the history of the vehicle for your review.
So, if you're in the market for a new vehicle, a previously enjoyed vehicle, or just want to give your Mazda a little TLC, North Hill Mazda is the only place to find what you need and want in a vehicle. Give us a call or e-mail us for quotes and information. Better yet, why not head directly to our facility to see your next vehicle up close and personal! Take one of our new cars, including the latest Mazda 3, on a test drive. Just book your appointment today and see why we're the #1 Mazda dealer in Calgary.
SALES
Monday:

8:30AM to 7:00PM

Tuesday:

8:30AM to 7:00PM

Wednesday:

8:30AM to 7:00PM

Thursday:

8:30AM to 7:00PM

Friday:

9:00AM to 5:00PM

Saturday:

9:00AM to 5:00PM

Sunday:

Closed
PARTS AND SERVICE
Monday:

7:00AM to 6:00PM

Tuesday:

7:00AM to 6:00PM

Wednesday:

7:00AM to 6:00PM

Thursday:

7:00AM to 6:00PM

Friday:

7:00AM to 5:00PM

Saturday:

9:00AM to 4:00PM

Sunday:

Closed
Pre-Owned in Calgary
Other Links
PARTS & SERVICE
ONLINE TOOLS