"You must add at least two cars before the comparison tool is made available"
Compare
Filter by
price
filter.catalog.sort.from
filter.catalog.sort.to
filter.catalog.sort.min
filter.catalog.sort.max
2018
Mazda 3
Starting at
$17,695*
North Hill Mazda is proud to offer you this Mazda 3 GX 2018. Drop by our store or ask online for more information on that vehicle.
Choose a trim to compare :
Learn more about
2018 Mazda 3
Learn

More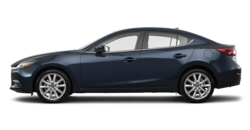 Request a Quote
* Suggested retail price of the manufacturer. Freight and PDI included. Taxes are not included. Does not include current Special Offers. Ask us for current Special Offers to know applicable specials.
WHAT THE EXPERTS ARE SAYING
About the mazda3
One of the apples of North Hill Mazda?s eyes is the new Mazda 3. Though asmall car in comparison with other Mazda cars, it comes jam packed withspecifications and features that complement both of the car?s wild, racyside and elegant functional one.
Once you set your eyes on this vehicle, you will love the sleek metallicexterior and the cockpit-like interior. Sit inside and you will be welcomedby oversized comfortable seats and ample room for your legs. Delving deeperinside the car, you will realize why Mazda 3 is becoming a favorite with itspowerful eco-friendly fuel efficient engines (148@6500 rpm, 155@6000 rpm and167@6000 rpm) and hundreds of valuable features like anti-lock brakes,automatic climate control, and even a touch screen navigating system.
However, what makes the Mazda 3 one of the top Mazda models in Calgary isits quick and slick steering and sharp handling. You can experience the joysof driving this specific model by scheduling a test drive at North HillMazda. So, call or e-mail to book your test drive or come down to ourfacility to claim your own Mazda 3.
WHAT THE CLIENT ARE SAYING
About the mazda3
147 Customer Reviews
2013-05-29 Read

more

My new CX-5 is really the best car I've ever owned and I enjoy driving it !

2013-05-29 Read

more

Thanks to my representative for all his hard work. I'm proud of my New Mazda 3!

2013-05-29 Read

more

My representative has been professional and negotiated with me the best price for my new Mazda 6.
SPECIAL OFFERS
About the mazda3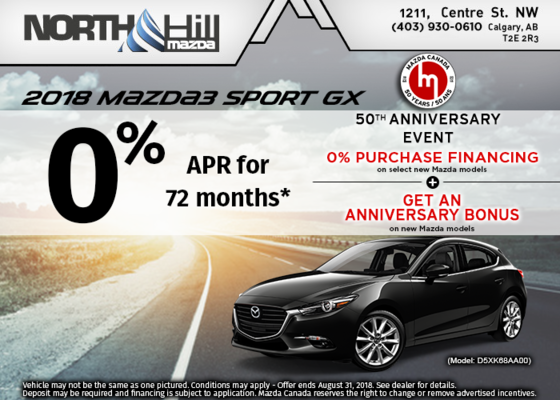 Purchase the 2018 Mazda3 Sport GX Today!
Finance a new 2018 Mazda3 Sport GX from 0%
for 72 months
Hurry up though -- the offer ends August 31, 2018!
Some conditions may apply.
Book a test drive today!
News & Videos
About the mazda3
t
4 news & videos.
Pre-Owned in Calgary
Other Links
PARTS & SERVICE
ONLINE TOOLS