All the news about your Favorite brand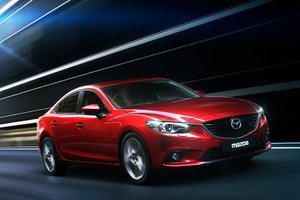 2013-06-17
2014 Mazda 6 – An eco-friendly vehicle that can turn heads.
Driving around Calgary in Mazda's new midsize sedan, the 2014 Mazda 6, I could not help but notice how many people glanced back to look at the car as I drove by. The new 6 is simply breathtaking. Of course, everyone has a different opinion when it comes to a vehicle's style, but no one can deny the 2014 Mazda 6's perfect proportions, long, curvy lines and aggressive front fascia.
On the road, the 2014 Mazda 6 is a capable midsize sedan that offers a quiet and comfortable ride. The front seats offer tons of a lateral support and keep the driver firmly in place even in spirited driving. As with most Mazda vehicles, handling is quick and crisp with a steering wheel that rapidly transmits orders to the front wheels as if the driver was connected to the car. The interior layout has to be considered among the top reasons to buy the 2014 Mazda 6. Inside, the driver feels like he or she is sitting in a premium German luxury sedan with a beautifully-designed center console that is as intelligently-designed as it is easy to use.
In our top-of-the-line GT test model, the navigation system was intuitive as were the rest of the features controlled through the center display. The information display is lit in white at night and is always easy to read. The interior also features a host of small but practical storage areas including a convenient space below the console. The front seats offer plenty of head room even with the sunroof while legroom is above par for this category. In the back, the seat is wide enough to accommodate three medium-size adults comfortably. Rear legroom is also impressive and above what most drivers would expect in this segment.
Power is provided to the front wheels via a 2.5 liter 4-cylindre SKYACTIV-G engine delivering 184 horsepower and 185 pound-feet of torque. Mazda's new SkyActiv technology has garnered a lot of press since it first launched on the Mazda CX-5 last year and with good reason.
The first thing one must understand about SkyActiv technology is that it is not one specific piece of equipment. As a matter of fact, it transcends the engine and also serves to improve both the chassis and the transmission.
The philosophy behind SkyActiv is that in order for a vehicle to perform better and offer better fuel-efficiency, it must be light, perform efficiently and minimize energy loss. Starting with the engine, Mazda engineers upped its compression ratio to 13:1, unheard of in this category and price range. Such a high compression ratio improves thermal efficiency and allows the engine to burn less fuel in order to achieve a desired power output.
Next up was the transmission. The standard 6-speed manual was designed to be lighter and more compact. It was also given shorter shift strokes in order to improve driving feel and preserve Mazda's zoom-zoom philosophy. The 6-speed automatic transmission was designed to integrate the best elements of both a CVT transmission as well as dual-clutch shifter. The end result is a more dynamic feel with improved fuel-efficiency. Finally, the chassis underwent a severe diet in order to make it lighter while at the same preserving its rigidity in order to improve driver safety and on-road performance.
The end-result is a Mazda that behaves like a Mazda yet requires less fuel than many rivals with lesser power. If for some the previous generation Mazda 6 strayed from the path its predecessor had laid out for it, the new 2014 Mazda 6 is right back on track.
Pre-Owned in Calgary
Other Links
PARTS & SERVICE
ONLINE TOOLS