All the news about your Favorite brand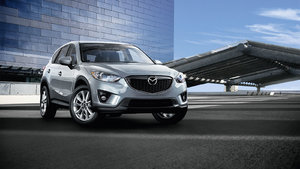 2014-09-11
2015 Mazda CX-5 – A fun-to-drive, comfortable and spacious compact SUV
Stepping into the compact SUV market with rivals like the Honda CR-V, Toyota RAV4 and the Ford Escape, the new 2015 Mazda CX-5 is a worthy opponent that offers sharp styling, a roomy and comfortable interior with seating for five passengers, impressive fuel economy, and to top it all off, it's also fun to drive.
Available at North Hill Mazda with a starting price of $22,995 MSRP, Mazda's compact SUV comes available in three models: GX, GS and GT. The base trim comes equipped with a SkyActiv-G 2.0-litre 4-cylinder engine. Aside from the fact that it produces a total output of 155 horsepower and 150 pound-feet of torque; the engine also features direct-injection, and an extremely high compression ratio of 13:0.1, both of which help to enhance efficiency.
Weight and friction have also been reduced, and a 4-2-1 exhaust improves performance, among other elements. From the SkyActiv-G 2.0 L, consumers can expect 15 percent lower fuel consumption and emissions. The new engine also generates 10 to 15 percent more low- to mid-range torque.
Fuel economy ratings for this engine, equipped with FWD and an automatic transmission, are 8.9/7.3 liters per 100 kilometers (city/highway). With AWD, the ratings become 9.3 and 7.6.
For a more powerful engine and sportier handling, the GS and GT models are equipped with the SkyActiv-G 2.5-litre 4-cylinder engine, producing 184 hp and 185 lb-ft of torque. Buyers can also select a front-wheel drive version, or an all-wheel drive system (optional on the base model) to go with their new 2015 Mazda CX-5 SUV.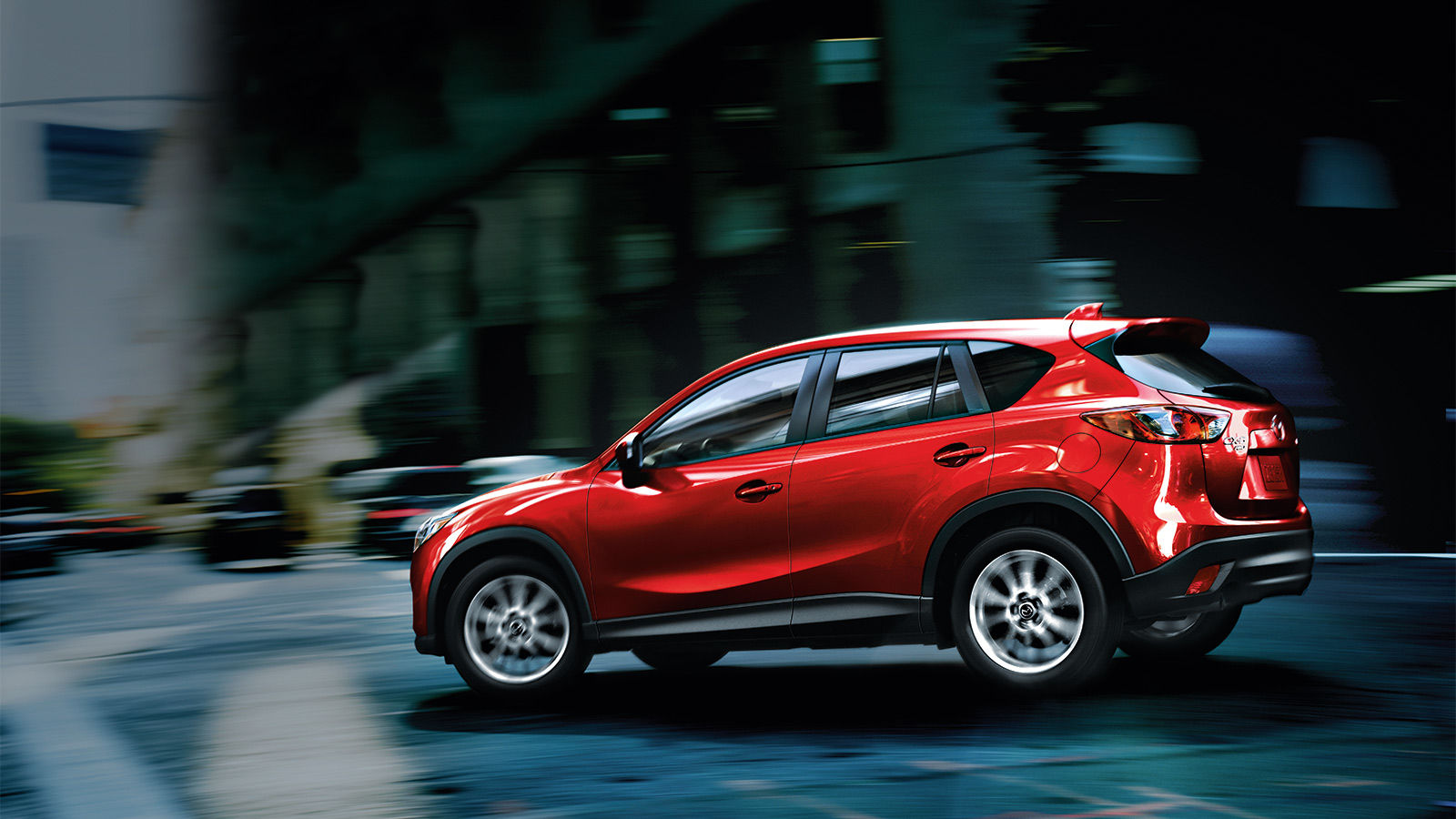 As for transmissions, the 2.5-litre engine is mated to a quick-shifting, and highly responsive SkyActiv-Drive 6-speed automatic with Sport mode that is available with the top two models, and optional on the base trim. The latter trim comes standard with a 6-speed manual.
In terms of safety, buyers can opt for blind spot monitoring system and/or Mazda's smart city brake support. Consumers may also wish to note the top 5-star overall rating the vehicle has received from the National Highway Traffic Safety Administration.
For comfort and convenience, buyers can opt for features like a 6- or 8-way power adjustable front seat, heated front seats, leather-trimmed upholstery, and a leather-wrapped steering wheel. Dual-zone climate control is available depending on the model, and the remote keyless entry and push start button are standard on the base trim. For the navigation system, consumers will have to select the Technology Package on the GT trim, and both the rearview camera and moonroof features are standard as of the mid-level trim.
Several entertainment elements are also available, such as satellite and HD radio, steering wheel-mounted audio controls that come standard, a text messaging function, and a 9-speaker audio system with surround sound.
Finally, the 5-passenger 2015 Mazda CX-5 interior is quite spacious. The rear seats will fold with a 60/40 split that increases cargo volume from 966 to 1,835 liters, and as of the mid-level model, owners will benefit from a 40/20/40-split fold-down rear seatback that further increases the cargo space by another 17 liters.
To experience the driving pleasure of the new 2015 Mazda CX-5 compact SUV, and to appreciate its comfortable and spacious interior, and all the features it has to offer, contact us today at North Hill Mazda.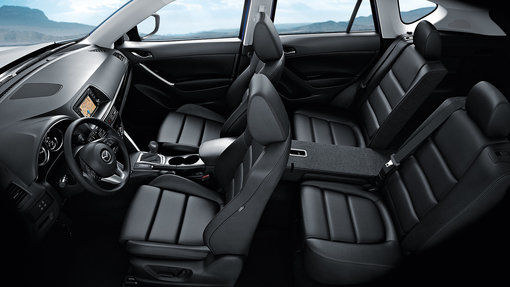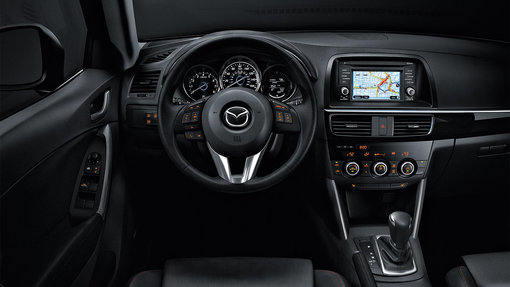 Pre-Owned in Calgary
Other Links
PARTS & SERVICE
ONLINE TOOLS