All the news about your Favorite brand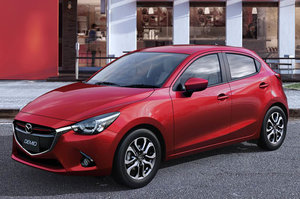 2014-08-12
2016 Mazda2 unveiled! – Sharper styling, SKYACTIV technology
Consumers have watched as other automakers have presented their newly redesigned subcompact models, all the while patiently awaiting the day Mazda's entry-level "2" hatchback is ready to undergo a few changes of its own. That time has finally arrived, and if the previous model was slick with aggressive styling and bold colors, the all-new 2016 Mazda2 is even sharper.
Known as the Demio in Japan, and based on the HAZUMI concept revealed at the Geneva Auto Show in March, Mazda has finally unveiled its all-new subcompact car. After seven years, the fourth-generation vehicle has been redesigned to not only include the automaker's KODO: Soul of Motion design language as seen on the new Mazda3, Mazda6 and Mazda CX-5 models, but also the full suite of fuel-efficient SKYACTIV technologies.
Buyers will also have a choice of two engines: a SKYACTIV-G 1.3-litre gasoline engine, and a SKYACTIV-D 1.5-litre clean diesel. It is yet to be seen whether or not the diesel engine will be offered in North America, though Mazda has said that it will release more information on the specifications of its new subcompact car closer to its on-sale date in Canada. The automaker has also mentioned that its 2016 Mazda2 will begin rolling out to global markets from Japan's Hofu plant starting this fall. Other features to anticipate on the hatchback are the in-vehicle i-ACTIVSENSE safety technology and the MAZDA CONNECT infotainment system.
Japan's best-selling vehicle has already managed to exceed the 2.4 million mark in terms of the units sold worldwide. As for the current 2014 Mazda2 model, the hatchback has a starting price of $14,450 MSRP, and is equipped with a 1.5-litre 4-cylinder engine producing 100 horsepower and 98 pound-feet of torque. The Mazda2 is also known for its sporty handling, minimalist interior, and affordable base price.
Pre-Owned in Calgary
Other Links
PARTS & SERVICE
ONLINE TOOLS