All the news about your Favorite brand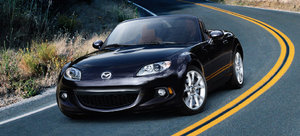 2014-07-15
All-new 2016 Mazda MX-5 will be unveiled in September
The next-generation MX-5 will be unveiled in a few months. Using a video that featured the catchphrase "It's not an evolution, it's a revolution," Mazda announced to the world that the all-new 2016 MX-5 Miata will be officially unveiled on September 3, 2014.
"We're excited to make this official, to announce that the newest member of the MX-5 Miata family will be arriving soon," said Jim O'Sullivan, the president and CEO of Mazda North American Operations (MNAO).
Mazda's iconic roadster was first launched in 1989, and after three generations, the automaker has decided to present the 2016 MX-5 during simultaneous global events in Japan, Spain, and the United States. In North America, the new convertible will be unveiled at Mazda Raceway Laguna Seca, just days before the Miatas at Mazda Raceway event to be held on September 5-7. The two-seat sports car will also be on display with "an array of heritage, concept and motorsports MX-5s."
News of the new roadster's official unveiling was released after more than two months of Mazda's presentation at the 2014 New York Auto Show, which revealed that its next-generation convertible would incorporate a SKYACTIV-CHASSIS. Since then, a special and limited edition version of the roadster was created to celebrate the vehicle's 25th anniversary, with 100 cars offered in Canada.
Currently, the 2014 Mazda MX-5 is equipped with a 2.0-litre 4-cylinder engine that generates 167 horsepower when mated to the standard 5-speed manual transmission. There is also a 6-speed manual that is standard on the top two trims, and a 6-speed automatic is optional.
Pre-Owned in Calgary
Other Links
PARTS & SERVICE
ONLINE TOOLS