All the news about your Favorite brand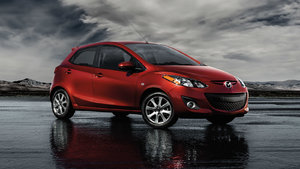 2014-03-28
Could the next Mazda 2 be the Hazumi concept?
Mazda has been steadily revamping its entire model range since 2012. First came the Mazda CX-5 sport utility vehicle, a model that flipped the compact SUV segment on its head, then came the completely revamped Mazda 6, named Canadian Car of the Year for 2014 by the Automotive Journalist Association of Canada (AJAC). Finally, the Mazda 3 followed, and now it could very well be the Mazda 2's turn.
And if the Mazda 2 is truly slated to be redesigned, it may very well be inspired by Mazda's Hazumi concept unveiled last month at the Geneva Auto Show. At least, one can only hope. Because let us be honest, a subcompact car is not usually very exciting when it comes to style, but if the next Mazda 2 is anything like the Hazumi, that will change in an instant.
The Mazda Hazumi concept features the Japanese manufacturer's signature KODO body language that has inspired the CX-5, the Mazda 6 and the Mazda 3, and which turned those models into vehicles that get noticed on the road, even if they are models anyone can afford.
The Hazumi features creased and flowing body panels, a massive shadow, sharp headlights, a slopped grill and a sleek roofline. If the Mazda 2 does end up looking like the concept, than Mazda will have another winner on its hands.
No word yet on what engine will power the next Mazda 2, but one can only assume that it will feature Mazda's new SkyActiv technology which aims to improve fuel efficiency without compromising performance. Mazda did say that the Hazumi is powered by a diesel SkyActiv engine, but the next Mazda 2 should get a gasoline SkyActiv engine when it hits the market.
We should hear about the next-generation Mazda 2 in the next few months. In the meantime, the current Mazda 2 is still around, and it still has plenty to offer in terms of driving dynamics and fuel economy. Come drive one today at our dealership!
Pre-Owned in Calgary
Other Links
PARTS & SERVICE
ONLINE TOOLS