All the news about your Favorite brand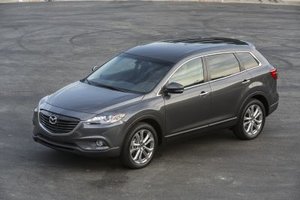 2014-06-03
Mazda is on a roll. Next up: the CX-9
According to several reports, the Mazda CX-9 could be redesigned in full as early as 2016. The move follows a string a recent models redesigned by Mazda including the Mazda 3 and the Mazda 6. These two models were reintroduced a year after the all-new Mazda CX-5 launched while we know that in the next few months, we will get a new generation Mazda2 and eventually a new-gen Mazda MX-5.
In other words, there are very few models that will not be revamped in the Mazda line-up over the next two years. For consumers, that means they get the very best in terms of safety, fuel economy and technology when they step into a Mazda dealership.
Mazda has not released much information about the next CX-9, only saying that buyers can expect improved fuel economy in the form of a smaller yet more powerful engine. The current V6 will likely be replaced by a turbocharged four-cylinder engine that will offer better performance yet improved fuel economy. Moreover, the current-generation's use of Ford parts should be put to the wayside as Mazda will likely build everything in house. Mazda's SkyActiv technology will likely be featured on the next Mazda CX-9 as well.
In the meantime, there is still the current Mazda CX-9 which, if Mazda has chosen to delay to redesign, is still quite up-to-date. It offers plenty of comfort, safety features and interior space, and should be on your list if you are looking for a quiet, family-oriented vehicle.
Pre-Owned in Calgary
Other Links
PARTS & SERVICE
ONLINE TOOLS