As part of our ongoing customer service and satisfaction guarantee, we offer top-notch service and parts along with our cars. This is how we became the top Mazda dealer in the area as well as being Canada's favourite Mazda dealer. It is also why we are the first stop for so many Calgarian and Albertan car buyers.
When it comes to car service, we are unmatched in Calgary or Alberta. Our skilled technicians are trained to use the latest technology to fix your vehicle and get you back on the road quickly and safely. Whether you're looking to change your car oil or to schedule a routine service checkup, North Hill Mazda's service facility welcomes you.
As for Mazda parts, we make sure to only offer authentic Mazda parts to boost your car's performance while adding to its stylistic appeal. From brake pads to sound systems, you will find it all at North Hill Mazda. Our experts are also available to offer advice and provide recommendations, so please don't hesitate to ask for assistance.
You love your car, so why not treat it to the best? Help it perform like no other with only genuine Mazda service, parts, and accessories.
MONDAY-THURSDAY:

7:00AM to 6:00PM

Friday:

7:00AM to 5:00PM

Saturday:

9:00AM to 4:00PM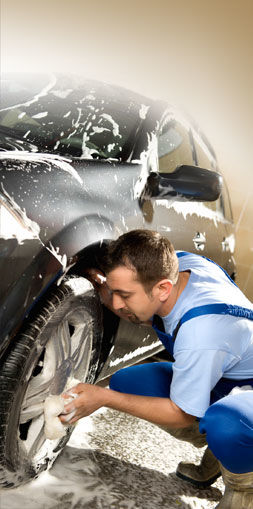 AUTO DETAILING
BRONZE PACKAGE
Complete hand washing and drying of the vehicle exterior including door and trunk opening
Power washing of wheels and inner fender
Interior cleaning including vacuuming of seats, carpets, and floor mats, as well as cleaning of glass and instrument panel
Deodorizing of vehicle interior (optional by request only)
SILVER PACKAGE
Complete hand washing and drying of the vehicle exterior including door and trunk opening
Power washing of wheels and inner fender
Interior cleaning including vacuuming of seats, carpets, and floor mats, as well as cleaning of glass and instrument panel
Vacuuming of the trunk
Shampooing of floor mats, seats, or carpets as well as spot shampooing of stains
Treatment of interior and exterior rubber and vinyl trim
Deodorizing of vehicle interior (optional by request only)
GOLD PACKAGE
Complete hand washing and drying of the vehicle exterior including door and trunk opening
Power washing of wheels and inner fender
Interior cleaning including vacuuming of seats, carpets, and floor mats, as well as cleaning of glass and instrument panel
Vacuuming of the trunk
Shampooing of floor mats, seats, or carpets, as well as spot shampooing of stain
Two-step paint restoration process to eliminate minor paint imperfections and restore factory paint finish luster. Includes machine polishing and paint finish sealant
Treatment of interior and exterior rubber and vinyl trim
Shampooing and degreasing of engine compartment and lower body
Complete interior shampooing of fabric seats, carpets, floor mats and door pane
Application of fabric protectant or leather conditioner on interior fabric or leather surfaces
Deodorizing of vehicle interior (optional by request only)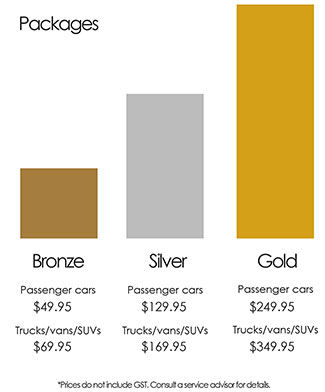 Additional Services:
INTERIOR SHAMPOO
Interior cleaning including vacuuming of seats, carpets, and floor mats, a well as cleaning of glass and instrument panel
Shampooing of floor mats, seats, and carpets, as well as spot shampooing of stains
PASSENGER CARS START AT $109.95
TRUCKS/VANS/SUVS START AT $149.95
EXTERIOR WASH & FALL-OUT REMOVAL
Complete hand washing and drying of the vehicle exterior including door and trunk openings
A Clay Bar is used to remove contaminates from the surface of your paint leaving your paint silky smooth
Paint restoration process to restore factory paint finish luster - includes power polishing and paint finish sealant
PASSENGER CARS START AT $209.95
TRUCKS/VANS/SUVS START AT $249.95
3M PACKAGES
We install 3M Paint Protection Film, which is a great way to add value to your vehicle and protection from stone chipping and abrasion
STARTS AT $299
WINDOW TINTING
Professional installation to block out the harmful UV rays while adding great value to your car, truck, or SUV/CUV
STARTS AT $195
PARTS AND SERVICE
Schedule
Monday:

7:00AM to 6:00PM

Tuesday:

7:00AM to 6:00PM

Wednesday:

7:00AM to 6:00PM

Thursday:

7:00AM to 6:00PM

Friday:

7:00AM to 5:00PM

Saturday:

9:00AM to 4:00PM

Sunday:

Closed
Pre-Owned in Calgary
Other Links
PARTS & SERVICE
ONLINE TOOLS