As part of our ongoing customer service and satisfaction guarantee, we offer top-notch service and parts along with our cars. This is how we became the top Mazda dealer in the area as well as being Canada's favourite Mazda dealer. It is also why we are the first stop for so many Calgarian and Albertan car buyers.
When it comes to car service, we are unmatched in Calgary or Alberta. Our skilled technicians are trained to use the latest technology to fix your vehicle and get you back on the road quickly and safely. Whether you're looking to change your car oil or to schedule a routine service checkup, North Hill Mazda's service facility welcomes you.
As for Mazda parts, we make sure to only offer authentic Mazda parts to boost your car's performance while adding to its stylistic appeal. From brake pads to sound systems, you will find it all at North Hill Mazda. Our experts are also available to offer advice and provide recommendations, so please don't hesitate to ask for assistance.
You love your car, so why not treat it to the best? Help it perform like no other with only genuine Mazda service, parts, and accessories.
MONDAY-THURSDAY:

7:00AM to 6:00PM

Friday:

7:00AM to 5:00PM

Saturday:

9:00AM to 4:00PM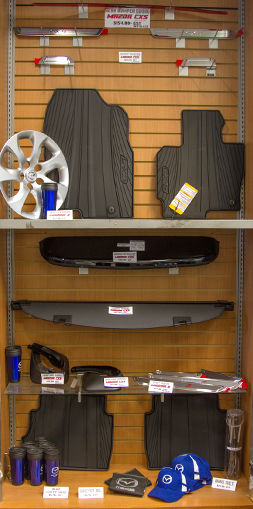 Parts and accessories
When you visit our parts department, there are a few things you should expect - namely, a huge selection of quality genuine Mazda parts ready to be installed, and always on hand. If, by chance, we don't have the parts on location, know that we can fulfill the order at amazing speed. Due to our state-of-the-art parts retrieval system, an item can usually be located and delivered by the next day.
Our experts are always ready to help you with your questions. Please give us a call, or visit our parts department to have all your questions answered by a friendly and knowledgeable member of our staff.
Don't compromise! Insist on genuine Mazda Parts. It's your right! All genuine Mazda parts are backed by a nation-wide warranty for one year or 20,000 km. This warranty is backed by Mazda's nationwide dealer network.
Order your parts
PARTS AND SERVICE
Schedule
Monday:

7:00AM to 6:00PM

Tuesday:

7:00AM to 6:00PM

Wednesday:

7:00AM to 6:00PM

Thursday:

7:00AM to 6:00PM

Friday:

7:00AM to 5:00PM

Saturday:

9:00AM to 4:00PM

Sunday:

Closed
Pre-Owned in Calgary
Other Links
PARTS & SERVICE
ONLINE TOOLS